On Campus
Jump to navigation
Jump to search
For ON-CAMPUS people
Client Settings
stunnel is required for connecting to twofo from the campus network. Details of how to use and where to find it can be found on the Connect page. If you are having problems searching and downloading once connected to the hub, please try the following:
You will need your INTERNAL network IP (IPv4) for this. It will be of the form 172.xxx.xxx.xxx.
Go to Control Panel and click on the 'Network and Internet' option, and go into the 'Network and Sharing Center'.
In the list of your network connections, click on 'Local Area Connection' to the right of the entry (next to Connections: ) to bring up the connection status.
Click Details.
Once you have this IP, go into DC++ and under File -> Settings -> Connectivity -> Manual configuration select 'Active Mode' and paste your IP into the 'External/WAN IP box'. Leave the port boxes blank.
A video of this process can be found at http://windows.microsoft.com/en-gb/windows7/find-your-computers-ip-address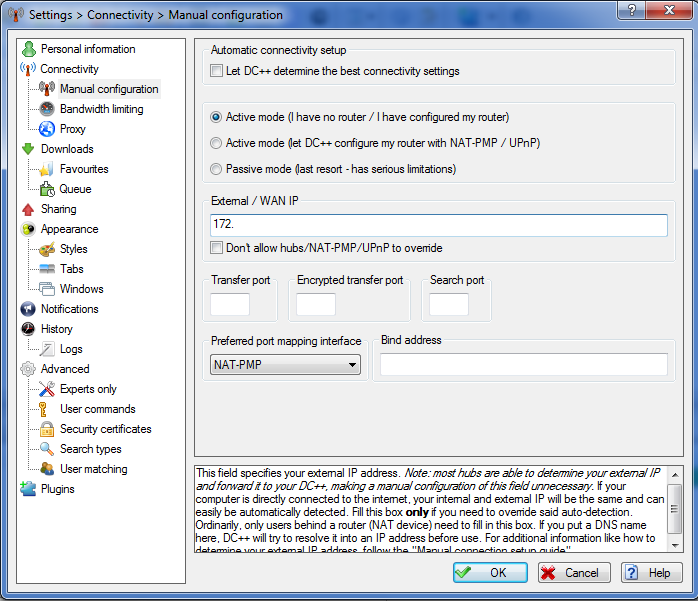 If it has worked previously, and no longer works now, PLEASE CHECK YOUR IP HAS NOT CHANGED!
If this doesn't work, check your firewall settings. Many firewalls will not allow connections to be made to or from DC++ for transfers or searches if there is no exception rule. There are instructions above for setting up the Windows Firewall to allow DC++.

NB. On the older versions of DC++ (<0.674), there are only two options, Active and Passive. You should be using Active mode.
Connection Type
We ask that everybody on campus goes into the Personal Information settings and changes their 'Connection Type' in the drop down box to 100. This acts as a quick and easy reference for others as to whether you are on or off campus. If you see somebody whose connection type isn't 100 then they should be off campus. Obviously this is not perfect as it relies on people actually setting it themselves, but the more people do it, the easier it will be for other users to distinguish on and off campus users.
Firewall Settings
You may also need to set any firewalls you have are set to allow connections to and from DC++. The most common firewall to block DC is the default windows one, which is usually enabled and running int he background unnoticed. To add an exception for DC++ on the Windows Firewall,thus allowing you to search, do the following:
Go to Control Panel, Network Connections. Next right click on the connection you use to access the internet (Local Area Connection or Wireless Network Connection) and choose properties.
Go to the Advanced tab and choose settings in the Windows Firewall. The Windows Firewall menu should appear.
Finally, go to the Exceptions tab and choose add program; click browse and navigate to DC++ (C:\Program Files\DC++) and choose DCPlusPlus.exe.
This should have added DC++ as an exception to the firewall so it will allow connections to and from it.

Other firewalls should have manuals on the internet for settings up exceptions for programs. It is advisable however to block external connections to DC++ when on campus. For instructions on doing this on a variety of pages please see the Firewalls page.
Segmented Downloads
Although not strictly necessary to allow you to download, you should disable segmented downloading in your DC client. This causes a significant drain on the resources of both you and everybody else on the hub on campus. For details on how to disable it please see the FAQ